This is my website, welcome. As most of you who know me expect to hear, when you ask me how I am in a phone call or in person, I will answer, "I'm great," "I'm excellent," or "I'm incredible." I am fortunate to be here, doing my best to make a difference in the time that I am here. I view every day as a gift. Very much a New Yorker, I am committed to bringing people together and creating new possibilities. I invite you to become part of my circle of life, as a client, colleague, or friend So, have the best day, and enjoy my website!!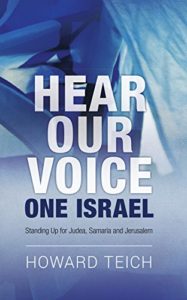 By Howard Teich
In the fifty years since the Six-Day War and the reunification of Jerusalem, though accused of the opposite, Israel has only sacrificed in the name of "peace"—Sinai, Gaza, southern Lebanon, and more—only to watch as Hezbollah and Hamas moved in with missiles in tow. HEAR OUR VOICE makes the case before the court of public opinion for Israel's true return to her homeland.
SPOTLIGHTIGHTING ORGANIZATIONS
I am involved in a broad spectrum of organizations, and want to share them with you.  I spend the majority of my time on them now, so take a look at the Organization Page, and let me know if you want to be supportive, or get involved in any of them.  You can link to the organization's website by clicking on their logo.
HOW I SEE IT – 2018
I will be taking viewpoints on issue worth commenting on, and I promise most will be thoughtful and some will be controversial.  And please, I want to hear your thinking, so please send your comments in, and let the fun begin.
NEWS AND NOTEWORTHY
PROUD TO BE: Watch the Video, Time to Change the Washington Redskins Logo

The word, Redskins, is derogatory and hurtful, most likely far beyond what you may be aware of, and I will not say more here. The Washington Redskins football team logo must change. I support the campaign 100%, and congratulate the National Congress of American Indian for taking a lead on this issue.
Life Lessons

Words and Thoughts of RFK, Jr.on the Death of the Rev. MLK, Jr.

Robert F. Kennedy, Jr, upon learning of the death of the Rev. Martin Luther King, Jr, spoke before a mostly African-American crowd in Indianapolis that night, these most moving words and thoughts, which I quote here, as they are equally lessons and wisdom for today, in this month of celebrating Martin Luther King Day in America. It was a most extraordinary speech, and considered one of the greatest of all time. - HT

"Ladies and Gentlemen,
I'm only going to talk to you just for a minute or so this evening, because I have some — some very sad news for all of you...